Residential locksmith in Colorado Springs
It would be best if you took all necessary precautions to secure your home. If you want to improve your home's security and keep your family safe, call our residential locksmith in Colorado Springs. With various lock and essential services, Apollo Locksmith Shop has provided Colorado Springs locals with excellent support. We can assist you with everything, like getting new locks on the front door, unlocking your windows, or making new keys for every household member.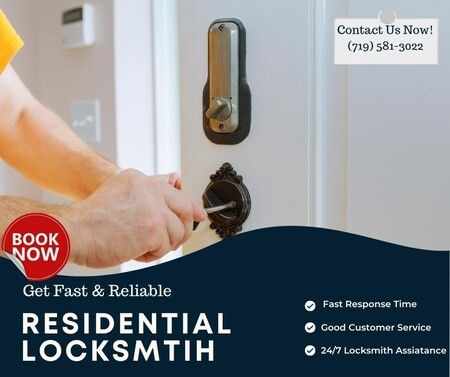 Your home, apartment, condo, or other property can benefit from the services of our team of mobile locksmiths, who can repair any lock. With everything they need to complete the task at hand, our experts show up completely ready. We have entirely licensed, bonded, and insured team members.
We're here to answer your call 24/7 and are dedicated to providing outstanding customer service. A professional from our service will arrive at your door in no more than 35 minutes if you call us immediately.
Why Is Lock Change Required for New Homeowners?
The most crucial factor is that former owners might still have the keys. Even though the house may be new to you when you move in, there is no way for you to know how many other individuals have keys. People rarely stay in the same apartment for a very long time, so this is crucial to know when moving into a new place in Colorado. Change your locks to ensure neither the previous owners or tenants can get inside your house.
Door locks are more likely worn out if the house has been vacant for a long time, and they frequently become stuck, are challenging to open, and may even lock you out of your house, requiring you to call a residential locksmith. By routinely replacing your home's locks, you may avoid dealing with these problems and make your house safer.
24/7 Residential Locksmith in Colorado Springs
When you choose a locksmith for your home, you need to deal with a trustworthy and knowledgeable professional. For your convenience, our expertly experienced technicians are on call around the clock and have years of expertise working on various lock kinds. We will always be available, even late at night, on the weekends, and on holidays.
Reliable Residential locksmith in Colorado Springs you can trust
We can assist you whether you require immediate assistance or want to update your locks and security systems. For whatever mobile locksmith service you may need, including a car lockout, locks changed, new car keys or any other mobile locksmith service, our residential locksmith Apollo Locksmith shop Residential Locksmith services are available 24/7. As soon as we receive your call, one of our mobile locksmiths will leave for your location with all the equipment and hardware parts he might need to finish the task as quickly and accurately as possible.
Apollo Locksmith Shop-Residential Locksmith Services in Colorado Springs
Residential Security Consultation
Are you concerned that the system design you have in place is not secure enough? Allow our professionals to take a look! A thorough assessment makes a decision on the level of security. If we determine that your facility does not have enough protection, we will recommend and put into place measures to protect it from potential external risks. Everything from brand-new locks to modernizing the door and window hardware is within our scope of service.
It's possible to be locked out of your home if you misplace your keys or they are broken. Rather than resorting to extreme methods in these situations, such as smashing the door or the lock, the prudent choice would be to seek the assistance of a trained specialist. We can unlock virtually any lock with minimal to no damage, granting you access in the quickest and most effective method possible.
Changing the keys in the locks
Have you relocated to a new home? Have you ever given someone else your keys and forgotten where you put them? If that's the case, we can rekey your locks to assist you in regaining control of your keys. The procedure entails switching the pins inside the lock to new ones so a different key can activate the lock. This procedure will render unusable any of the old keys to the certainty that is still in circulation after it has been completed.
Installation of brand-new locks:
In pace with the new trends, more innovative and better locks are finding their way into the market. Refusing to accept change can result in significant financial losses. You will enjoy the higher sense of safety offered by modern lock systems if you take advantage of our newly developed lock installation service. We help you secure your property in the most effective manner possible by providing upgrades for the locks on your mailbox and garage door, among other things.
Other residential locksmith services/products we provide:
We can make custom lock orders to complement your property's style. These locks are available in various high-quality finishes, including chrome, brass, and bronze, making any house appear even better. Please visit our store or call us if you have any questions or would like to go through our collection.
A combination lock is the most common keyless lock used for residential properties, even though there are many kinds of keyless locks available. In addition to these, you can find combination locks that also have a "backup" keyhole in them. We provide a wide selection of keyless locks for purchase and can repair or replace them similarly to traditional locks that use keys.
Key boxes are containers for storing keys that have the appearance of padlocks and can be opened with a combination lock. When keys must be kept on the premises, they are utilized frequently in the real estate industry. They are capable of being either long-term or short-term solutions.
Secure Your Home Right Now!
For more information on the high-security door lock installation services we provide in Colorado Springs, contact our staff right away. Our professional locksmith specialists offer dependable house lockout assistance, door key replacement services, and residential locksmith services throughout Colorado.