Car Locksmith in Colorado Springs
Think of being without one of your most valuable possessions—your car! If you can't get into the vehicle that's placed in your garage, it's either because you misplaced the keys or because the lock has suddenly quit functioning. A more manageable issue is missing out on a trustworthy mode of transportation for a few days. What if it happens at a time and place you couldn't imagine? In such circumstances, you need immediate aid rather than delaying the solution. A towing service can assist only with the transfer of your vehicle to a dealer or repair. A Car Locksmith in Colorado Springs is the solution.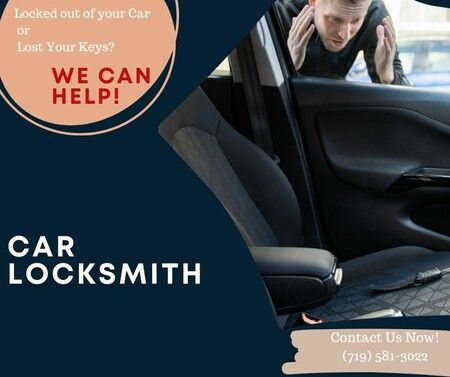 To address the specific lock & key requirements of car owners, we have established our automotive locksmith section, which is available around the clock and offers roadside help, mobile solutions, and professionals. We have only increased, optimized, and streamlined our work to give our clients outstanding service. We are proficient in various tasks, making us your go-to locksmithing partner for everything from making car keys to resolving auto lockouts.
Professional Automotive Locksmith Serving the Colorado Springs AreaYou may relax and feel confident that you are working with an experienced and qualified professional. To guarantee the highest possible level of expertise, each of our professionals undergoes extensive training in the most recent approaches, techniques, and tools. Do you require assistance unlocking doors or making a new set of keys? You should call us if you're looking for an Auto Locksmith in Colorado Springs.
Reliable Automobile Locksmith in the Colorado Springs Area
Our highly knowledgeable professionals can assist you with any auto locksmith needs at your location. We carry all of the necessary equipment, new keys, ignition, and remotes in our vehicles, which allows us to complete a job without having to return to the store for additional components. Each of our professionals has received extensive training, and their primary objective is to provide one hundred percent happiness to our clients. Call us anytime, day or night, for any locksmithing needs.
Roadside Assistance 24/7
Because we needed to find out the area where the lock and key event would take place, we decided to take our investigation on the road. You could find yourself stranded in any location, require ignition repairs, require new keys, or require any other service associated with your vehicle. If you live in the Colorado Springs region, you won't need to bring your vehicle to us because our mobile vehicles, which are fully equipped and up to the most current safety standards, will come to you instead. Because our vans are stocked with everything we need for the job, we can do virtually any service at the customer's location, including repairs, key programming, unlocking locked doors, and replacing the ignition. The best part is that we are available around the clock, so you can give us a call whenever you find yourself in need of assistance.
Service of Car Locksmith in Colorado Spring at an Affordable Price
At Apollo Locksmith Shop, we aim to provide the best service possible while maintaining the most outstanding work quality and ensuring complete customer satisfaction. We have been in this field for many years and have experience dealing with various auto-lock scenarios. We can solve whatever problem you're having with your vehicle, whether the door is stuck, the key is broken, or you've locked yourself out.
When you're in the wrong position, most people need to realize how essential it is to have a trustworthy locksmith on call, especially if you're locked out. People frequently need to consider that to get assistance if they are locked out of their vehicle, they will need to make a specific call to an auto locksmith.
Apollo Locksmith Shop-

Car Locksmith in Colorado Springs
Car Lockout Solutions
Getting locked out of the automobile is annoying, but it happens to practically everyone at some point. Fortunately, there are several solutions available because this occurs so frequently. On the other hand, a car locksmith could fix this problem by choosing the lock on the trunk or door, depending on where the keys were left. After the issue has been resolved, it's essential to get a spare or new automobile key made. A trustworthy car locksmith service you can turn to in an emergency is necessary; our mobile car lockout services can assist you in less than 30 minutes. Regardless of your location in Colorado, our vehicle locksmith experts will help you.
Change the Ignition Switch
It may be not easy to believe, but a locksmith may also repair a car's ignition on the spot if the ignition circuit or another replacement ignition part requires. A locksmith is ready with all the tools and equipment necessary to make the changes wherever you are, even though it may appear like a labor-intensive job to execute on-site. One of the most popular services our auto locksmiths provide is removing a broken key from a car door or ignition and repairing the entire car ignition switch component immediately.
Replace lost car keys
If your car was manufactured after the mid-1990s, making a new car key is no longer as easy as creating a new one. One of our professional automotive locksmiths with the necessary tools is what you need if you somehow misplace your car keys or need a spare key manufactured. When you call Apollo Locksmith Shop, we'll assist in your location with the equipment necessary to design a new key that fits your car.
Fixing Car Door Locks
Locks and keys deteriorate and stop working as well as they should over time. Numerous factors can contribute to this; one as simple as a piece of road debris stuck in the lock might result in lock malfunction. In this situation, one of our vehicle door locksmith experts will be able to locate the issue and quickly fix the malfunctioning or jammed lock.
Call our Car Locksmith in Colorado Springs right away!
Call us immediately for quick, courteous, and dependable automobile locksmith services! When you call, one of our helpful emergency responders will record your information, including the location of the need for service, your contact details, and the nature of the assistance required. If you require assistance with automobile locksmith problems, call right away!