Commercial locksmith in Colorado Springs
Call us anytime for immediate assistance if you need a business locksmith in Colorado Springs to make your office, retail store, or commercial facility safer and more secure. We have a team of professional commercial locksmiths in Colorado Springs standing by to handle any office, retail shop, or other business property project. Are you locked out? Have you fired an employee and need to replace the locks? Do we need to add an emergency exit? Call Apollo Locksmith Shop Commercial Locksmith in Colorado Springs immediately for Fast mobile locksmith assistance from a team of experts.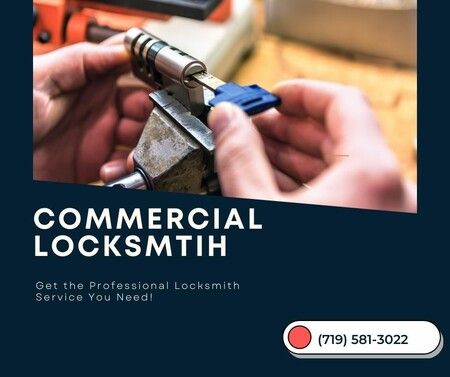 We have worked with office managers, property owners, and corporations throughout the city for years. We have a reputation for being dependable and producing high-quality work. Call us if you are experiencing an emergency lockout, if you need a new set of locks set, or if you require security maintenance services. We are available 24/7.
Commercial locksmith in Colorado Springs-There is no commercial lock issue we can't handle.
At Apollo Locksmith Shop, we provide all the security installation, maintenance, and repair services your commercial facility would require. Our experts are ready to assist you in any security or emergency since we know the specific needs and metrics of commercial and industrial security standards.
You must have an effective security system to feel secure in your company. Security ought to be a top priority for any business owner. No company can afford a security issue since it affects the confidence of both consumers and staff. Nobody wants to work for a company that isn't situated in a safe area.
We provide Commercial Locksmith Services at prices that our competitors cannot beat.
If you own a business, you may have to deal with security issues such as damaged or broken locks, safes, filing cabinets, working windows, and the security system for the door. Locksmiths who work professionally face problems like this daily and are experts in finding solutions to them. The locksmiths that work for our organization have a wealth of expertise and a high skill level. Our team can deftly resolve any problem, regardless of how major or minor it may be. If any problems on the following list affect you, please do not hesitate to contact us.
We're true Commercial Locksmith Professionals

.
Your home's overall safety depends largely on the locks and keys that you have. It would be quite expensive for your company if you trust such important security information to a locksmith who is either incompetent or unknown. This information might be sold to individuals interested in purchasing it, or the locksmith might utilize it improperly to obtain unauthorized entrance into your residence. If you decide to work with us, you can be at ease knowing that we will provide you with excellent service. Everyone on our team has had extensive background checks run on them and has sworn to abide by our code of work ethics. There will under no circumstances be a breach of either your privacy or you're confidentiality. Because of this, many businesses in the area have come to rely on us as their primary locksmith service.
Reliable Commercial Locksmith 24/7
Your call will always be answered promptly by a member of our team of locksmiths because we are accessible 24/7. We have established commercial relationships with various companies and enterprises in the Colorado Springs area, and we can do the same for you if it is something you require. Please call us if you have any questions about the reasonable charges and agreements we offer. We are ready to respond to your call around the clock with local locksmith services that are prompt, professional, and dependable.
Apollo Locksmith Shop-Commercial Locksmith Services in Colorado Springs
Installation of a new lock
A commercial property owner cannot afford to have faulty or damaged locks since they could malfunction at any time. In these situations, it's crucial to quickly swap old locks for new ones to protect your property. Commercial locksmiths are on call around-the-clock to change locks as needed. We can also make recommendations regarding the appropriate security system for your commercial area.
Service for Lock Repair
A security system's longevity is largely dependent on proper maintenance. Commercial locksmiths at Apollo Locksmith shop can do routine maintenance, assess your security system, and make recommendations. We look for any possible issues that can weaken your locks in the future, including cracks, rusty hardware, and other issues. We can fix or replace everything faulty or damaged before something terrible occurs.
Rekeying
Don't worry if you or some of your staff misplace a crucial key. Our locksmiths can rekey any business lock. Additionally, a master key can be made, allowing the user to enter multiple locks with just one key. Or the key inside the lock was broken. While making a key for the same lock, our professional locksmiths can remove the broken key from the lock. Your money will be saved without purchasing an additional file cabinet, safe, or lock.
Find nearby commercial locksmith services.
We know each business has a different set of lock and security demands. At extremely affordable prices, we provide all varieties of commercial locksmith services. No matter the time of day or night, if you find yourself in a bind and require our assistance, call us, and we will send one of our top-notch, expertly skilled, and certified locksmiths your way.
Depending on your office's proximity, it will take us 15 to 20 minutes to reach your commercial property. When we get there, we will offer you an estimate and explain what services you require. Traditional commercial lockouts typically last 20 to 35 minutes, depending on the type and brand of the lock.
Need Commercial Locksmith Services? Find Out When to Call an Apollo Locksmith Shop-Commercial locksmith in Colorado Springs

.
Whether you're a manager or a company owner with an office, you could frequently find yourself in risky situations. You and other business owners must deal with customer theft, staff corruption, and break-ins.
If you want someone trustworthy and dependable, you should choose a commercial locksmith in Colorado Springs. You can call us at (719) 581-3022.